SIGNIFICANCE OF HAVING FIRST-AID KIT AT HOME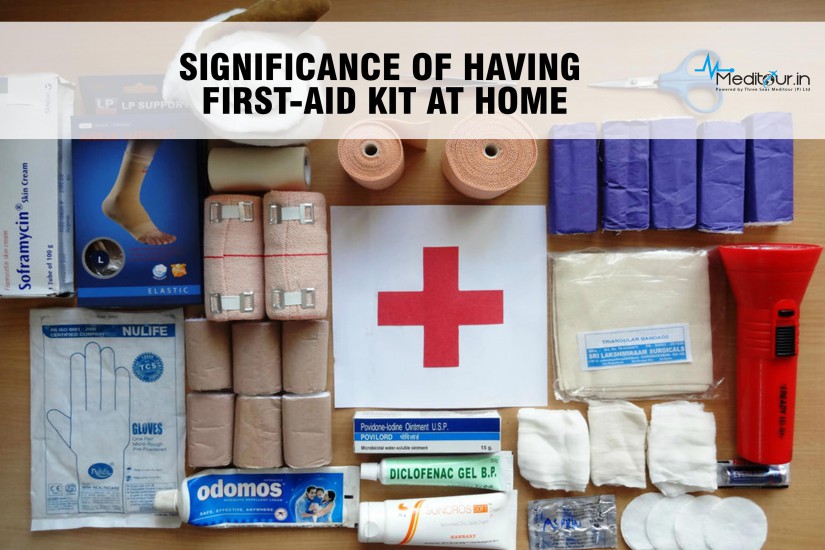 First Aid is the immediate and primary care rendered to a casualty. An injury or accident can happen at any time. So, it's always better to have a first aid kit at one's disposal. A first aid kit includes medicines and necessary medical equipment to administer first aid to a casualty. If you care for your loved ones, you must have a first aid kit at your home. Here are 6 reasons why to have a first aid kit at your home.
1. Face unexpected accidents - An accident can happen at any time. If you have a first aid kit at home, you can provide the necessary primary care until you take the casualty to hospital.
2. Scrutinize Body Temperature - If you have a thermometer at your home, you can check your body temperature as and when you feel it rising or if you feel feverish. If your temperature rises beyond the limits, you can get necessary medical assistance.
3. Control Blood Loss - What if your family member or a neighbour, sustains a deep wound and bleeding profusely? You have to stop bleeding to constrain blood flow right. You can make use of your first aid kit to make the blood clot. Thereby reducing the severity of the accident.
4. Save money and time - If you have the necessary medical amenities to dress a wound or cut, you can save your money and time. It's not necessary to go to a clinic for a small cut or wound, you can do it yourself with the help of a first aid kit. In case a person is suffering from mild gas trouble or cold or diseases as such, you can administer medicines from your first aid kit.
5. Reduce recovery time - A delayed medical assistance means a delayed recovery. It makes the casualty suffer for a prolonged time. If you have a first aid kit at home, you can administer primary medical assistance thereby curing/mitigating the pain of a casualty.
6. Save lives - Sometimes by providing adequate medical assistance, you can save a life. Imagine you could be the reason for someone to be alive. Many lives have been saved by administering first aid.
A first aid kit is necessary at your home, a movie theatre, shopping malls or offices. You have to keep a watch on the expiry of medicines and medical equipment contained in your first aid kit. If you have children at home, a first aid kit is a must. You know kids get injured now and then. If you have a first aid kit at home, you don't have to take the stress. The main thing is you can be peaceful knowing that you have a first aid kit at home. Even if something happens, you are prepared to rescue your loved ones.
A first aid kit should include medicines for adults and children, bandages, cotton swabs, thermometers, scissors, ORS solutions, antiseptic creams, nasal drops, crepe bandage, Digene etc. Considering the prevailing situations, you must have to include face masks and hand sanitizers. For all your requirements like PPE kit, Facemask and Digital Thermometers, contact Three Seas Meditour for quality products at best market rates to keep you safe during this epidemic. As the proverb says, prevention is always better than cure.
Visit our website: https://meditour.in/